December 14, 2022
European project to recover critical raw materials from contact water from mining liabilities
• The REECOVERY project, co-funded by the European Commission, will develop a system to recover critical raw materials such as rare earths, cobalt, zinc and copper with the aim of reducing Europe's dependence on imports.
• Minera Los Frailes is leading this initiative, in which Cetaqua, Water Technology Centre, Aquatec, the Consejo Superior de Investigaciones Científicas (CSIC), the Polytechnical University of Catalonia (UPC) and the Łukasiewicz-Poland Institute of Non-Ferrous Metals (IMN) are also participating.
Europe's need for critical raw materials (CRMs) such as rare earths and cobalt is growing rapidly due to their economic importance and the risk of supply disruption. These elements, imported until now from countries outside the European Union, are key to the development of new technologies such as the production of electric cars or wind turbines, among others. In order to ensure a stable supply chain that allows the deployment of technologies needed to meet climate neutrality objectives, the European Union aims to reduce dependence on imports of these elements.
In this regard, REECOVERY, a European research project that will develop and validate a resource recovery system to obtain critical raw materials from acidic contact water from old environmental liabilities of mining origin or from mining activity processes, was launched last April. These innovative treatment techniques will make it possible to recover cobalt, rare earths and other metals such as zinc and copper contained in acid waters generated from acid drainage or in the processes of hydrometallurgical and mining activities. In addition to promoting the circular economy, this process will help in the environmental recovery of mining liabilities, contribute to minimizing waste generation and help to comply with the discharge limits of the mining facilities themselves.
A full-scale circular economy model for the mining industry
These treatment processes proposed by REECOVERY, which will be developed at full scale, will also valorize by-products considered waste from other industries, such as sulfur from the petrochemical industry and organic waste from the food and biodiesel industries. New wastewater treatment technologies will also be tested to minimize their impact and promote their reuse.
In parallel, the REECOVERY project will ensure that the recovered raw materials meet all the standards of different end users. The carbon footprint generated with the REECOVERY solution will also be calculated and compared with that of the current linear process to assess the environmental benefits. Recovery of these materials is expected to be 1,800 ton/year of zinc sulfide and 116 ton/year of rare earth oxalates. In turn, 1.1 Hm3/year of reclaimed water will be produced. This technology is presented as an example of symbiosis of environmental mitigation and industrial valorization of critical substances.
Minera Los Frailes, in Andalusia, is the chosen location to test the technologies
Minera Los Frailes is leading this initiative and will be the site located in the Sevillian town of Aznalcóllar, where the developed solutions will be tested. This organization plans to efficiently manage the contact water from the complex's old mining liabilities, together with the large volumes (10 million m3) of acidic water containing metals, stored in an old open pit during years of inactivity over the last decades.
The environmental recovery and valorization of old mining sites, together with the growing dependence on the market for the availability of critical raw materials, has required a paradigm shift in the mining sector towards a more circular model. This is a model project with great potential for application, in which valuable by-products such as metal sulfides, rare earth oxalates and reclaimed water can be recovered and/or exploited with the consequent environmental valorization.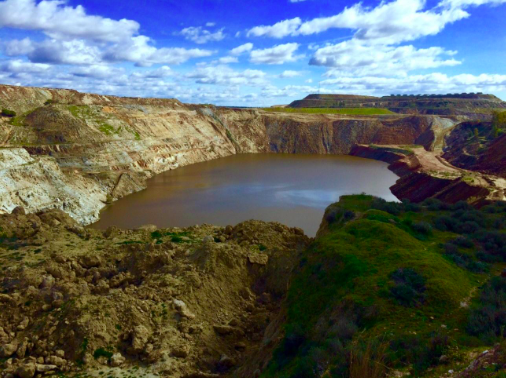 The REECOVERY consortium also includes the participation of Cetaqua, Water Technology Centre, Aquatec (Agbar Group), Consejo Superior de Investigaciones Científicas (CSIC) and the Polytechnical University of Catalonia (UPC), which will work together to validate the treatment train and successfully commercialize the solution. The Łukasiewicz-Polish Institute of Non-Ferrous Metals (IMN) will be in charge of exploring opportunities and detecting future customers for the solution in southeastern Europe.
The project counts with the participation of DINAPSIS Circular Economy, which will collaborate in the co-creation and generation of alliances to identify missions and transformation strategies, challenges of the industry and the territory, and their possible solutions. DINAPSIS Circular Economy will play a key role in the involvement of key players in the innovation and knowledge ecosystem, the generation of new business opportunities and development of startups, as well as training and capacity building towards a sustainable and circular industry of the future. DINAPSIS is an Agbar Group initiative that, among other objectives, is committed to co-creation and alliances to establish synergies, applying acquired knowledge and collective creativity.
REECOVERY is part of the EIT Raw Materials funding program, an innovation community within the European Institute of Innovation and Technology (EIT). This body provides a collaborative environment for innovation, connecting companies with academia, research and investment entities, with the aim of supporting Europe's transition to a circular, green and digital economy.